Accent chairs have been part of our home interior. They make our homes extra beautiful because of their appearance that catches our naked eyes. Upon choosing them, we already know what kind of it we'll probably need. How will we be able to choose the right one then?
Well, choosing accent chairs must not be based only on their appearance. It should be found on the color and quality yet, but we should also consider the style and comfort to serve us with higher points. Consider our body's needs and the reaction it gives when you try to sit on that chair.
To give you ideas, here are some of the best accent chairs on the market that offer not just style but comfort as well.
Christopher Knight Home Evelyn Arm Chair
This accent chair offers an old-style approach great for those who are retro-style enthusiasts. This will surely suit almost all interior design and could be placed in any part of your home regardless of the design and appearance. Aside from that, this chair will stand long for more than a period.
This retro-style accent chair comes with soft padding from their support to the back. It has an outline square pattern formed by button formations within its back padding. It also has armrests that are crafted to support perfect comfort.
Moreover, it is built with high-quality materials such as rubber legs that support stability and textile fabric to give you a soft and smooth touch and stain-resistant fabric to have it cleaned easily.
Roundhill Furniture Chocolate Pisano Accent Chair
A fan of "armless" designer accent chairs? Well, this might be the one you are looking for. With its look, it is perfect for those who are into simple yet appealing ones.
The chair offers so much comfort and will probably let you sit for hours without any problem. The quality well is durable, and you can clean it easily without any hassle.
The medium used comes from the textile fabric, specifically with chenille weave that features very soft quality. With the solid wood stand and a small pillow, it will surely give out an elegant approach.
Stone & Beam Lauren Oversize Accent Armchair
Most of us prefer those accent chairs that are crafted out of leather. This will probably give us the sophisticated approach most of us love. Aside from that, the quality will last for some time, and the cleaning will be much easier than fabric.
This accent chair is designed for those who are into low sit style chairs as this chair sits down over the floor. This is good for children and elderly who couldn't sit on much higher seats. Also, this is supported with block-style wooden stands that will give out strong support.
Besides, these accent chairs come in various shades designed to partner with your interior home style. This will perfectly complement all interior eras such from modern to traditional. Not just that, the comfort it gives will probably leave the sighs out of you.
Lexicon Fabric Accent Chair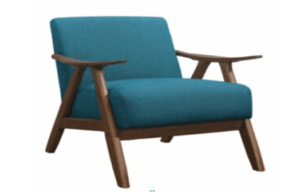 Having a simple accent chair indeed complements every home style. Well, this accent chair is what I am talking about. An armed chair with a soft cushion is exquisite to look at. This upholstered chair from seat and back will support comfort as well.
The slightly curved arms and legs give out different looks and are perfect for giving you different home vibes. It also comes in various colors to support the color scheme you have in mind.
This will perfectly fit not just in your home's interior but also outside, such as balcony and terraces.
Conclusion
In the end, it is up to you whether you choose the one with arms or not, lowered or standing relatively high or even leather or fabric. It depends on what style and comfort you need to suffice the thought you have. Yet remember that whatever you choose, one thing is for sure, this accent chair will serve its purpose and show style and comfort. The Yorkshire Fabric Shop can help you choose the best fabric for your accent chair.
Well, these are just some of the accent chairs we have in the market. Discover more unique and underlying accent chair style and quality that will probably suit the taste you want. Have yourself an accent chair that breaks the fatigue your body has. Have yourself an accent chair that connects to how your home appears.
Like other types of chairs, this will be your best partner in times when your knees need to fold. They will always be on your back to give you peace and calm when you feel like rest is the only thing you need at this time. So, choose the accent chair you surely need and be comfortable with it.
Know More About Yorkshire Fabric Shop!
If you prefer to buy something customized, yet ready-made, this is something we can offer too. We have an extensive range of gorgeous handmade cushions, stylish Roman blinds and curtains, and even statement armchairs which can be made to order for you to enjoy. Artisanal skill meets contemporary style at the Yorkshire Fabric Shop.
We have tools to help you create your own mood board, have fun and experiment with mixing colors and patterns, and prints. We are full of ideas so please visit our news page for tips and tricks on finding the best material for your particular taste and needs. Our team of visionary curators travel the globe to source the 1000's of fabrics we proudly showcase. From textured chenille plains to tribal patchworks and velvet animal prints, we have one of the most comprehensive ranges of fabrics found under one roof.
Here in Yorkshire Fabric Shop we work closely with expert weavers and artisans to create designs that are totally unique.
#accent chairs
#designer furniture
#yorkshire fabric shop